In Conversation
with Alexander Parkyn-Smith on Documentary Photography
Multiple dates
Wex Photo Video | London
What you will learn at this event.
Join us for a seminar with photographer and visual anthropologist Alexander Parkyn-Smith.
Alexander will begin this talk by speaking about documentary photography within academic research. With his creative and academic background, Alexander has the goal to make academic research more visual and documentary photography more rigorous.
Using his recent projects that cover female entrepreneurs in Central Asia, Alexander will discuss his approach to visual communication and the opportunities presented when combining research and photography. Alexander will cover the ethics of representation, documentation, and establishing sustainable funding opportunities for photographers to work alongside researchers.
This talk will cover:
• An introduction to Alexander Parkyn-Smith's career
• Documentary photography within academic research
• The ethics of representation and documentation
• Establishing sustainable funding opportunities
• 'Together we have it all' - Portraits and stories of women in CBT Kyrgyzstan
• 'Trailblazers' - Women Entrepreneurs in Kazakhstan
About Alexander Parkyn-Smith:
Alexander Parkyn-Smith is a photographer, filmmaker and visual anthropologist whose interests lie in understanding human-environmental relations, the perception of risk and the way that people tell stories to help make sense of change.
With a background in both documentary photography and academia, his work combing captivating visuals with profound research. Holding an MA in Visual Anthropology from Goldsmiths College, he furthered his exploration in Central Asia, earning a PhD through extensive fieldwork.
His projects range from 'Museum of Corruption,' a visual journey through Ukraine's former presidential palace, to ongoing work on 'Women Entrepreneurs of Central Asia' and 'Rights of Way' in the UK.
Alexander's photographs have earned recognition in esteemed exhibitions, including the Royal Photographic Society's IPE 162, the EyeEm Awards, and the Taylor Wessing Portrait Prize Exhibition 2023.

Meet the speaker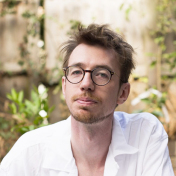 Where the event is taking place.
Address
Wex Photo Video | London
37-39 Commercial Road,
London, E1 1LF
Book a session at Wex Photo Video | London
Follow us
Subscribe to our channels for advice, inspiration, tips & tricks and community feedback.