How To
Photograph your Pets | London
18th May 23 (12:00 - 16:00)
Wex Photo Video | London
What you will learn at this event.
Join us in-store for a workshop on the art of animal photography with the professional photographer Tatiana Greenall.
In this session, Tatiana will teach you how to build a relationship with the animals you are photographing that will, in turn, help elevate the images you take. Tatiana's approach focuses on your pet's personality and the moments you share with them.
The Sony team will be available from 12 pm to present an extended variety of the newest Mirrorless cameras and lenses. They will be providing cameras and lenses to loan on the day. If you are a Sony user, please bring along your kit. If not, there is no need to bring your camera. Just bring an SD card and try out one of ours. There will be exclusive Sony offers available on the day.
During the workshop, you'll have the opportunity to shoot alongside Tatiana, with her available to answer any questions.
This course is supported by Sony.
The course will cover:
• Gear and benefits of shooting Sony Mirrorless
• When and how to safely use artificial lighting
• Image composition, perspective and timing
• Camera settings and location management
• Working with animals and animal care
• Basic advice on post-production editing
About Tatiana Greenall:
Tatiana started her creative journey in 2010, shooting portraiture, weddings and family photoshoots. Over her career, Tatiana began photographing dogs and soon realised her passion and unique talent for animal photography.Now specialising as a professional pet and equine photographer based in Chepstow, South Wales, Tatiana has developed a distinctive style that captures an animal's individual personality and emotion.

What you will need
• SD Card
Meet the speaker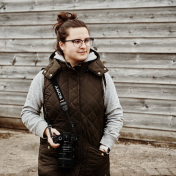 Where the event is taking place.
Address
Wex Photo Video | London
37-39 Commercial Road,
London, E1 1LF
Follow us
Subscribe to our channels for advice, inspiration, tips & tricks and community feedback.